---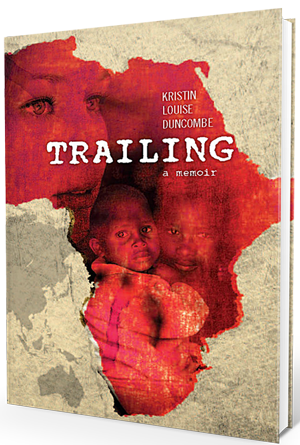 ---
Buy the Book
You can purchase your own copy of Trailing: A Memoir in paperback or for Kindle.
Amazon
TRAILING: A MEMOIR
Kristin's first book,
Trailing: A Memoir
, chronicles her experience becoming a "trailing spouse" and following her Médecins Sans Frontières husband to the frontlines of disaster and disease in East Africa. Critics say that "Few books offer so revealing a glimpse into the life of an American wife in Africa, where staying alive mentally and intellectually can be just as important as physical survival," and that "
Trailing
speaks not just of adapting to alternative cultures, but about the responsibility we need to take for our own lives, even if the parameters are set by other people. A perfect novel for ex-pats, or for any woman who is seeking a sense of purpose."
Trailing was a runner up in the Indie Reader Discovery Awards. The book was selected as one of the Best Indie Reads of 2013, who's review board described it as "Nothing short of a beautiful piece of literature…A wonderfully realized memoir about a woman's struggle to obtain a stronger sense of self, save her marriage and her family, but more than anything, to save herself. ..Raw, poetic and stunningly paced. This book is a must read." Indie Reader Review
"Raw, poetic and stunningly paced. This book is a must read."Indie Reader Review
Interviews about the book can be found:
Interview on blog "Geneva Family Diaries"
Janet Skeslien Charles interviews Kristin Louise Duncombe
Smashwords Interview with Kristin Duncombe
---
Interested in hearing about upcoming talks and readings from Trailing: A Memoir? Please sign up for my mailing list and I will keep you posted.
---
BOOK CLUBS
Interested in using "Trailing: A Memoir" for your book club? Have a look at the
"Trailing: A Memoir – Book Club"
page for suggested themes and discussion topics.