Janina Rossiter is a German author who writes and illustrates the children's book series Tovi the Penguin. She lives near Paris, France, with her British husband and young daughter, working as a freelance packaging designer. She started her career as an illustrator in July 2014 a when she decided to bring Tovi to life.  Janina has a passion for design, design blogs & fashion blogs and everything that is creative!
How did you decide to start illustrating children's books?
I just love children books. Even before I had a child of my own I went out and bought children books, just because I loved the illustrations and the stories. They are so much fun and also, unlike in the packaging design world where after a few years your design gets a facelift and your original creation disappears, the books are there for life. If they are successful they will get passed on from generation to generation, which I also find really nice.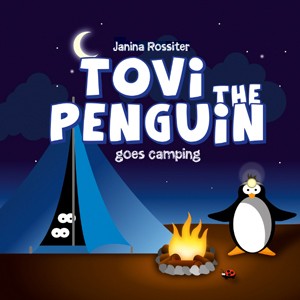 What are your children's books about?
My books are essentially about friendship. The penguins go on little adventures together and things don't always go as planned. It gives the young (and older) reader some excitement so that they look forward to knowing how it all turns out in the end. My main aim is to make the reader smile and enjoy Tovi's story. He is a lovely character and I would like to think that the reader learns something from my books without them being overly educational.
Janina, what are you currently working on?
I'm currently working on my third installment of Tovi's adventures, called Tovi the Penguin goes to London. It's a book about discovering London and making the most out of every situation. I'm also working on other projects, such as translating the Tovi books into several other languages. I am hoping to bring them out in both German and French also; especially since my daughter is growing up trilingual, it would be nice to have them all!
How many books are currently available in the Tovi the Penguin series?
For the moment there are two books that are already available: Tovi the Penguin Goes Camping and Tovi the Penguin Goes Away for Christmas. The next book, Tovi the Penguin goes to London, will be available in February 2015.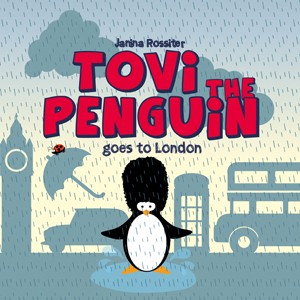 So not long to wait now! The books are for very young children, between the ages of 2 and 6. They are mainly picture books with a little text.
What is your goal with writing children's books? Since writing and illustrating children books is not my full-time job, I have never really tried to find a publisher. I decided one day that having the physical book would be nicer than simply having it on the computer, that way I would be able to share it properly with my daughter. It also made it possible to put them on sale to a wider audience.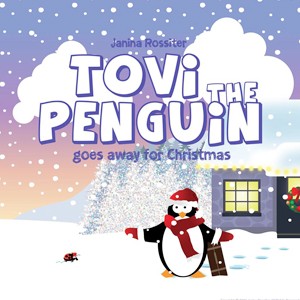 I think that with every new step you become a little more ambitious though, so I guess in the end my ambition would be to get a publisher rather than going through the self-publishing route, but my ultimate goal is just to have the books out there for my daughter. Having other people buy the book gives me a huge amount of pleasure, though, and I'm glad they seem to enjoy them as much as us! I'm extremely grateful for the positive feedback people leave on Tovi's facebook page too! In the end, I just really love doing the stories.
If you would like to learn more about Tovi the Penguin here are some links:
http://www.amazon.com/Tovi-Penguin-goes-Camping-1/dp/1500536598/ref=sr_1_1?ie=UTF8&qid=1422197694&sr=8-1&keywords=tovi&pebp=1422198221155&peasin=1500536598
http://www.amazon.com/Tovi-Penguin-goes-Christmas-Volume/dp/1500983934/ref=pd_sim_sbs_b_1?ie=UTF8&refRID=0Z8Z99BH0YJW2M72TEJ2
https://www.etsy.com/listing/218972259/writable-adhesive-notes-post-it-tovi-the?ref=sr_gallery_4&ga_search_query=tovi&ga_search_type=all&ga_view_type=gallery
https://www.etsy.com/listing/218969573/writable-adhesive-notes-post-it-tovi-the?ref=sr_gallery_2&ga_search_query=tovi&ga_search_type=all&ga_view_type=gallery